How to get your hair white.
First of all you need to understand a little about the process behind bleaching, and this will also help you to understand why you simply cant bleach over previous colour. 
Dyed hair
When you use hair dye to darken your hair it may work differently depending on a. the type of dye you used and b. the level at which the dye worked (permanent, semi permanent etc) Permanent dyes work by not only coating the hair but opening up the cuticle and depositing new pigment into the hair. This does not leave the hair and remains until it has grown out.
When attempting to lighten hair that has been coloured continuously with artificial dye the bleach must work by oxidizing the pigment within the cuticle and removing it. If there has been a large amount of artificial pigment placed around and within the hair then the bleach will often destroy the cuticle before it even gets through the entirety of the artificial pigment inside. When this happens your hair turns to jelly (ever used hair removal cream? your hair will do the same thing!) and you are left with some crappy half eaten baby-shit brown coloured pigment and no hair structure for it to exist inside of. You will look like this: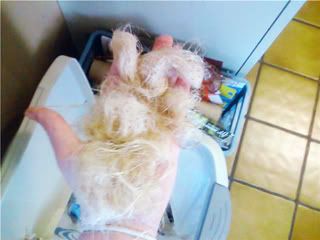 and you WILL be crying. Chances are it wont even be this white when it falls out. I cant stress to you enough not to do this but some of you still will and all I can say to you this this: Nobody likes a brassy blonde… nobody likes a brassy blonde with crack whore grade clups missing and fried hair *squinty eyes* 
SO what are your options if you have pre existing pigment? There is a magical product that I personally used and others that are very similar which work in a different way to bleaching. Dont be fooled these products will still damage your hair but not nearly as much. The product I used was called Affinage Eraser.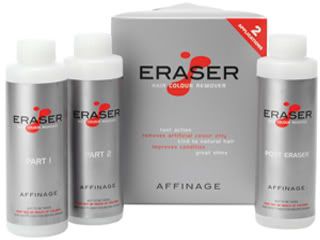 This product is designed to break down artificial pigment leaving only the natural pigments that you have in your hair. If you have bleached your hair previously and you are removing dark pigment used later on, your hair might lift to a revolting orange. Which is good. Its a start and you didnt need to use harsh bleaches. These products that work by removing artificial pigment are also great because they have a more neutral PH and dont expose your hair to a very acidic product. You have a certain amount of time to apply this product so you do need to work fast, and you will probably need to use this over many weeks depending on how much pigment you have to remove. 
See! Im not a total arse I have solutions even for those of you who have black hair ;) What you need to remember is that this is a long process and therein we come back to commitment. You need to want white hair so much that you are willing to spend about $500 on products like this over six months if thats what it takes to do it right.
Can I bleach now?
The biggest mistake I see people making over and over again is using a bleach that is far too strong. On one website I saw a woman suggest someone use a 60VOL peroxide to lift black hair. That is a medical grade peroxide, not to mention that anything over 20Vol will blister your scalp, and even a 10Vol will blister your scalp if your prone to a sensitive or itchy scalp. I am only going to say this once.
STRONGER BLEACH DOES NOT EQUAL BETTER RESULTS
This is my hair:
My natural colour is a medium mousey blonde. I use a 10Vol peroxide on my hair for UP TO 30 minutes (usually only about 15) and it lifts to white. Hairdressers tell me I would need to use at least a 20Vol on my hair. They are idiots and if I used that my hair would snap off. Later I will go into some information in regards to picking a hairdresser who isnt a total sped.
A 10Vol peroxide used twice a week in between a good deep conditioning is the best was to lift your hair colour. Using a very strong and hard peroxide like a 30Vol is more damaging to your hair and once hair is damaged there's no way of going back no matter how much your hairdresser tells you that if you use this conditioner with real bamboo it will make your hair strong again…like bamboo!
YOU DO NOT NEED A STRONG PEROXIDE *headbutts desk* *throws cat across room*
 Gently gently. Be gradual. Baby shit brown hair is a right of passage into being a good blonde.
What kind of hair do you have? 
There are some instances where a 20Vol might be more appropriate than a 10. If you are asian or have very thick hair (and I dont mean thick as in LOTS of hair I mean look at your hair follicles. Are they very thick and robust or fine) Asians tend to have much thicker hair follicles and it will be much harder to lift pigment. They are also far more likely to need to aid of things like toners to achieve their colour and even then it wont be white it will be overtoned if they arent careful. Nobody likes an over toned 'white blonde' because the result is some yellow tones and some grey tones and its like a car accident D: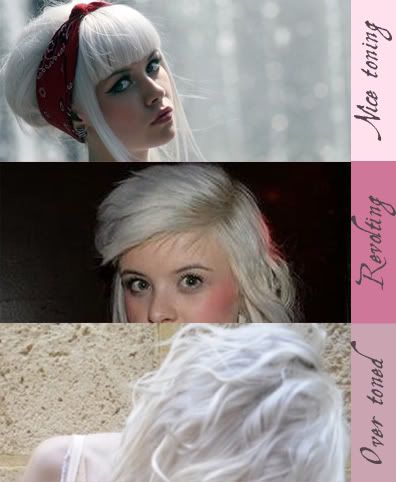 If you are either of the bottom girls in these photos them 'liek zomg gf fix eeiiiit!'
What has happened is that they have had an uneven tone to start with and tried to use 'toning' to rectify the remaining yellowy pigment. I really hate to burst anyone's bubbles but unless you are basically white blonde anyway toning will just look trashy. You will go grey and yellow. toning should be used to cross the line between absolute bleach blonde and white. Like this:
So Paris Hilton would be a White Blonde, Christina Aguilera would be a white blonde (though she has switched between the two).
I digress and basically the point of this section is: If your hair is thick, it will take more work if your hair is thin dont over do it, it wont take as much as hairdressers like to think it will (with the exception of good hairdressers!)
The process so far 
So in order to sum up where to start you will need to do the following. 
*Make sure you have no artificial pigment in your hair either through the use of products like Affinage eraser or Trimming off the pre existing dye.
*Lighten your hair to a bleach white blonde. You may still have some very very pale yellow tones. After this you can either tone to achieve white, or you may lighten to white without toning as I do, because your hair can do it. 
*Make sure that you use a weak bleach many times in between conditioning treatments to reduce damage to your hair.
*tone, or don't tone depending on your hair and whether or not you need it.
Some things to keep in mind  
*Dont let your hair band or bleach unevenly. If you have some natural hair and some artificially coloured hair then use the eraser and then treat the two sections differently. Otherwise you will end up with toning problems down the track eg: grey hair and yellow hair. 
* Some people just cant do white hair and it has entirely to do with the anatomy of your hair. For some people the ammount of bleach it will take to remove the pigment from inside the shaft of hair exceeds the amount of bleach it takes to break down the structure of their cuticle.
* Do a spot test. No joke. I know spot tests…nobody does them. But in this case its super helpful in testing the waters with what strength of peroxide to use and how your hair handles it. For gods sake…do a spot test somewhere inconspicuous. I did a spot test once right ontop of my head and it snapped and I had a tuft. Not my brightest moment…
* Be gracious in defeat. If you cant have white hair compromise and find something else exciting to do. Theres no use in having white hair if it looks and feels absolutely disgraceful. Sometimes you can compromise and realise that yes you can get white hair but its not strong enough to deal with it growing to any decent length. get extensions. NOT permanent ring extensions because they damage your hair too. Get clip in ones. If you want white hair that badly then you wont mind putting them in and caring for them each day. :)